Library Instruction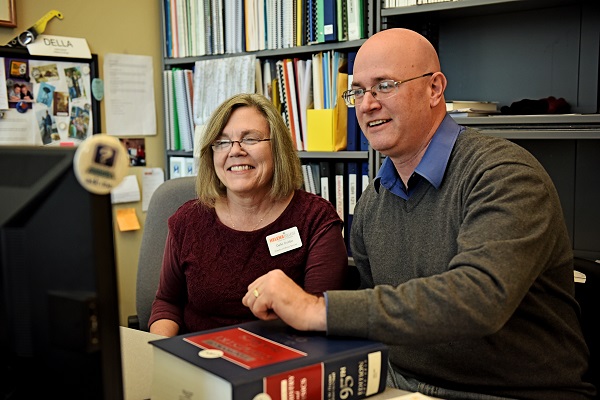 Whether it's face-to-face, hybrid, or online, librarians are happy to visit your class and provide targeted instruction to help your students learn about information and research skills.
Library instruction is available for small groups or classes and can be scheduled outside regular library hours if necessary. Faculty are encouraged to arrange instructional sessions that are tied to specific class assignments and projects. 
Instruction can be as broad or specific as you like. After a typical library instruction, students will be able to:
Explain the importance of using library resources in academic research
Navigate the library website
Choose keywords in order to search for books and journal articles in OneSearch, EBSCO, or other library databases
Evaluate information
Cite sources according to established styles (APA, MLA, Chicago, etc.)
Library services can be integrated into your online course through Moodle. For example, we can host a text or video chat on using the library, moderate a forum discussion, or provide links to library services in your course.
If you would like to have a librarian visit your class, please email Della Dubbe with information regarding your request.  The more specific you are about your expectations, the better we can tailor our instruction sessions to suit your needs.
Library Research Tutorial in Moodle
Our Library Research Tutorial in Moodle is available to all students. The five lessons can be taken separately or together for a certificate of completion.
 Open Educational Resources (OER)
The Helena College Library has developed a comprehensive Guide to Open Educational Resources. Della Dubbe is available to assist faculty and adjunct faculty in finding, using, and creating OER. Please contact Della if you need help.
The MUS and BOR approved our membership in the Open Textbook Network (OTN). This is a supportive group of librarians and faculty representing 600 campuses across the nation. You will find the team of experts leading OTN, helpful resources, and the Open Textbook Library (OTL) on their website.
One-on-One Research Help and Tutoring
Librarians and tutors are also available for one-on-one appointments with students. Direct students to schedule an appointment with a librarian, tutor or academic coach in Microsoft Bookings. Have you considered giving extra credit for meeting with a librarian or tutor?
Library Materials
Faculty may borrow print books and DVDs for 4 months, with the option to renew twice, provided the item has not been requested by another patron. The library makes it easy to obtain the materials you need:
Helena College Library: Use OneSearch to search our collection. If the item is not available here, we can borrow books from TRAILS libraries.
TRAILS Libraries (Montana Academic Libraries): Helena College is a member of the TRAILS consortium of academic libraries in Montana. Search the collections of these libraries in OneSearch. Sign in with your NetID (HCF#) to request an item to be sent to Helena College Library for you to check out. It can take about a week for items to arrive. If the item is not available in TRAILS libraries, the library can request it via interlibrary loan.
Interlibrary Loan: For an item that is not available from Helena College or a TRAILS library, contact the library with title and author information. Allow a few days to one week for materials to arrive.
Popular Reading
We have a collection of new and popular fiction available in our leisure reading collection. Don't see what you like to read? Suggest a purchase so we can add it to the collection or request it for you.
Print Journals
For any journal we receive in print format, we will gladly route each new issue to your mailbox. Contact the library to see a list of journals we subscribe to.  Faculty are consulted for subscription requests in the spring semester.
Course Reserves
Faculty may place personal or library materials—and some electronic documents—on reserve in the library for short term use by students during a semester. Please visit the library and fill out the Request to Place an Item on Reserve form; bring the item you wish to place on reserve with you.
Suggest a Purchase
In our effort to provide the best print books, videos, journals, ebooks, articles, etc. for our academic programs, we encourage you to contact the library with title and author information for the item you wish to add to the collection. We will notify you upon receipt of the item.
We need your expertise to make the library the best it can be!
Databases
The library subscribes to over 150 databases that provide access to peer-reviewed journal articles, magazine and newspaper articles, videos, images, career and test prep, and more. Search these databases together in OneSearch, or search the databases individually in Databases A-Z.  Access off-campus using your NetID (HCF#) and password.
Subject & Class Research Guides
The library has created a number of Subject & Class Guides to direct students to the most appropriate library resources for a given subject or class (see the Psychology or WRIT101 guides for examples). Most guides contain links to recommended databases, books, and websites, as well as guidance in using library resources and information literacy skills.
Please share these guides with your students, such as via a link in Moodle or on your syllabus.
If you don't see a guide that suits your course, librarians are happy to collaborate with you to create a new guide. Please contact the library if you'd like to do so - the sky's the limit!
Displays
The library welcomes displays of student artwork. Please contact the library to schedule a date to showcase your students' work.