Interested in Helena College?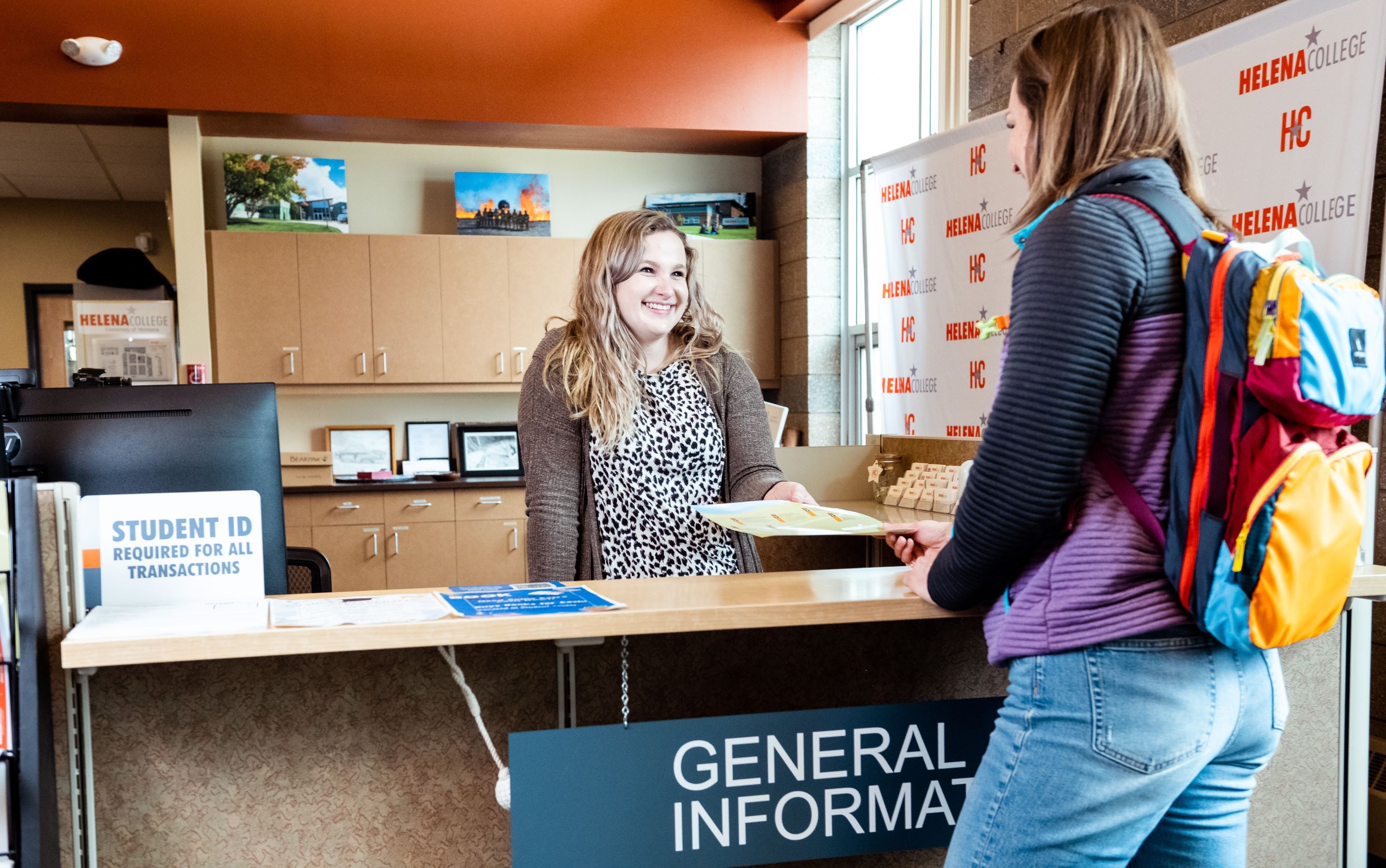 Ready to Apply? – It's easy!
Apply for Admission
Apply for Financial Aid
Apply for Scholarships
Meet with Your Advisor
Register for Classes
Attend Orientation
Choose the following category that best describes you!
First Time Students (I am or will be a high school graduate or have not attended any college)
Transfer Students (I have previously attended another college or university.)
Readmit (returning) Students (I have previously attended Helena College)
Non-Degree Seeking Students (I am taking classes for seven credits or less)
Dual Enrollment Students ( I would like to take college classes while I am in high school)
Home School Students
Are you a veteran?  Check out our Veterans Benefits page.
Western Undergraduate Exchange Program (WUE)
First Time Students
Those who have never attended college before, please start by completing a new student application .
You will need to submit the following Application Materials to complete your admissions file
Proof of immunizations.  You will need to obtain TWO doses of the Mumps, Measles and Rubella (MMR) vaccination.
Official high school transcript with posted graduation date from an accredited high school. Transcripts must be received by Helena College in a sealed envelope from the high school. If you are a current high school student, you will be accepted conditionally on the arrival of your transcripts with the posted graduation date. OR
HiSET/GED scores
Seasled homeschool transcript signed by the home instructor
Non-accredited high schools will need to be verified by the appropriate office of public instruction to confirm validity. Helena College may request additional information to confirm the validity of a high school diploma. 

Transfer students
Students who have attended an accredited institution will need to fill out a new student application.
Apply Now - Apply Montana | Montana University System
Transfer students are required to complete all application materials.
Do your credits transfer to Helena College?
If you wish to have your previous transcripts evaluated, submit official transcripts in the sealed envelope the institution sent the transcript. If the envelope has been opened or the seal has been tampered with, the transcript is not official. Helena College is intuitionally accredited by the Northwest Commission on Colleges and Universities. As such, all college level coursework from institutions accredited by the following list of agencies will be reviewed for transfer credit. Helena College will review and transfer all applicable credits to meet program, general education, and elective requirements.
Transfer credits from institutions not accredited by the agencies in the above (excluding foreign institutions) list will not be accepted for transfer, but may be accepted through prior learning assessment. Transcripts will not be evaluated until your admissions file is complete. If you would like an evaluation before the start of the semester you must complete your application by the priority deadline.
We encourage you to look at our transfer equivalencies webpage to get an idea of what credits we have accepted from institutions in the past and how they have been evaluated. Contents of this guide are subject to change depending on the requirements of institutional programs. If a class is not in the transfer guide it does not necessarily mean the course will not transfer, it is possible we have not reviewed the course yet.
If you have attended a Montana University System institution you may be eligible to have your file transferred. Please contact the admissions and records office at 406-447-6912 for more information.
Transcripts
The Admissions & Records office evaluates and reviews all official college transcripts for transfer students. For more information on the transfer policy, please visit the Montana Board of Regents website.
Please Note:  Transcript evaluations will only occur when the admissions checklist is COMPLETE and received by the priority deadline.  The priority deadline is one month prior to the first day of classes of the desired term.  Otherwise the evaluation will be completed by the following semester registration.
Readmit (returning) Students
If you applied for admissions more than a year ago but did not attend classes you will be required to fill out an application for admission, provide your official transcripts and copies of your MMRs, and pay the non-refundable $30 application fee. If it has been less than one year since you applied you are only required to submit an application for admission and any remaining Transcripts and/or MMRs. The $30 application fee is not required.
Former degree seeking students who have earned credits at Helena College are welcome and encouraged to return to us. If you have been away from Helena College for two or more academic semesters you will need to fill out an application for admission as a returning student. If you sat out for only one academic semester you may contact the Admissions Office at 406-447-6912 or 406-447-6907 for information on registering for classes.
Non-Degree Seeking Students
Non-degree seeking students are limited to seven credits and cannot receive financial aid. For Montana residents, your application fee will be waived. All other applicants will be charged a $30 application fee for each application submitted. If you have attended a corresponding MUS institution, please submit an unofficial transcript to waive the $30 application fee.
Application Deferment
If you applied for admissions to Helena College but are unable to attend for your selected semester you may be eligible to submit a deferment form. With a completed deferment form we will take all application material on file for you and move it to a subsequent semester of your choice. You may only defer your admissions for three semester (roughly one calendar year) before you will be asked to submit a new application and fee. Deferments are only applicable to students who have recently applied to, but not attended, Helena College. If you have questions about your deferment eligibility please contact admissions at 406-447-6912.
Home School Students
Home school students will need to meet Ability to Benefit requirements.  Please contact the Admissions and Records office at 406-447-6912 or 406-447-6907 for more information.
Residency classification
The following information is a summary of the Student Guide to Montana Residency Policy and Montana Board of Regents of Higher Education Policy 940.1 Residency Policy: Montana University System. Students considering applying for residency for tuition purposes should review these documents thoroughly prior to applying for residency to make sure all requirements are met.
Application Materials and Deadlines
New students should contact the Admissions Office for questions on residency classification. Residency applications and all supporting materials are due no later than the 15th day of a fall or spring semester and first day of classes during the summer. However, it is recommended to submit the application materials at least a month prior to the start of the semester to ensure enough time to gather additional information.
Beyond the Residency Questionnaire, applicants must submit supporting documents providing proof of their established 12-month period or policy exceptions. It is highly recommended that an applicant use the Residency Pre-Screening Form to make sure supporting documents are in order prior to submission of the residency application.
To show proof of full-time employment or spouse's full-time employment in Montana (H.1.b in policy 940.1), please download the Employment Affidavit form and submit it with the residency application.
Residency Questionnaire/Application
Residency Pre-Screening Form
Employment Affidavit
Montana University System Residency Requirements
Policy 940.1-Residency Policy: Montana University System
Requirements Summary
Any person considered a non-resident for tuition purposes may be reclassified as a resident after the following conditions are met:
The applicant must be physically present in Montana for 12 continuous months. The 12-month period does not begin until all acts that clearly indicates the intent to become a Montana Resident is taken. Actions that may be taken to begin the 12-month period include:

Montana vehicle registration.
A Montana driver's license.
Register to vote in Montana.
Filing resident Montana income taxes.
A principle residence is purchased and MT title obtained.

A total of 30 days absence from the state is allowed during the 12-month period. A person who is absent from Montana in excess of a total of 30 days during the 12-month period is presumed to lack the necessary intent to acquire MT residency, and will remain classified as a non-resident. If the applicant is absent from Montana more than 30 days they must begin a new 12-month period.
If enrolled in classes during the 12-month period, the student must not enroll more than half time (six credits). Students enrolled full-time are considered to be in Montana for educational purposes and any period of full-time enrollment at a college or university will negate the act that began the 12-month period.
The applicant cannot be claimed as an exemption by a non-resident parent or legal guardian on federal income taxes starting with the tax year in which the 12-month period begins.
During the 12-month period and thereafter, an individual is expected to act in a manner consistent with Montana residency and do all those things required by law of any resident. Examples of inconsistent or contradictory actions are voting absentee ballot in another state, receiving financial benefits from another state based on residence, maintaining legal ties with another state, participation in an exchange program such as the Western Undergraduate Exchange (WUE) that affect fee status, or receiving financial aid/scholarships based on residence other than Montana.
Special Circumstances and Exemptions to the Policy
A minor or un-emancipated person may be considered a resident if:

The student normally resides with a parent who is a resident of Montana.
If the parent who takes the student as an exemption for federal income tax purposes, or supplies majority of their financial support (51%) is a Montana resident.

Members of the armed forces stationed in Montana on regular active duty, their spouse, and dependent children will be classified as residents during the tour of duty. This does not include service in the Montana National Guard and/or Reserve Units unless full-time, active duty status can be proven.
A person domiciled in Montana who is employed in a permanent, full-time job, his/her spouse, and dependent children are considered residents of Montana without fulfilling the 12-month period, if demonstrated proof can be provided that the primary purpose for the move to Montana was not education, and that all legal ties have been changed to Montana, i.e. driver's licenses, vehicle and voter registrations, etc. This exemption to the 12-month period is based upon a permanent, full time job offer and acceptance of that offer prior to the individual's move to Montana, or the submission of any Application for Admissions materials to a college or university in the state.
Any graduate of a Montana high school accredited by the Board of Public Education who is a citizen of the U.S. or a Permanent Resident Alien, who registers as any unit (college) of the Montana University System no later than the 4th fall term following the student's high school graduation shall be eligible for in-state fee status for five years from the date of initial registration or until the achievement of a baccalaureate degree, whichever occurs first, provided that the individual attended the Montana high school for the entire senior year.
It is presumed that an individual who was formerly eligible for in-state fee status who has been absent from Montana for a period of 12 months or more, has abandoned in-state status. This presumption does not apply to individuals who can demonstrate that Montana residence was maintained during the absence, and no actions were taken in contradiction of the claim of Montana residence. Examples of such evidence would be: maintaining legal ties with Montana, i.e. driver's license, voter registration/voting absentee ballot, vehicle registration, and the filing of full-year resident Montana income tax returns on all income earned. This presumption of non-residence does not apply to individuals who left the state solely for educational purposes or for military service, provided the individual did nothing to contradict Montana resident status. If contradictory actions are taken, the individual could lose Montana resident status for fee purposes immediately, e.g. employment in another state, legal ties changed to another state, and/or filing resident income tax returns in a state other than Montana.
Western Undergraduate Exchange Program
Helena College University of Montana offers a limited number of Western Undergraduate Exchange (WUE) waivers each year. Students who are residents of Alaska, Arizona, California, Colorado, Hawaii, Idaho, Nevada, New Mexico, North Dakota, Oregon, South Dakota, Utah, Washington, and Wyoming may be considered for this waiver.
WUE waivers are offered to select non-Montana resident students who are then eligible to pay reduced tuition and fees. Non-resident tuition and fees for 15 credits are approximately $4,742.30 per semester. As a WUE recipient, you would pay tuition and fees of approximately $2,393.30 per semester. This award extends to the completion of a student's program or 2 years, whichever occurs first, provided the student:
Enrolls in 12 or more credits each semester
Maintains a 2.5 cumulative grade point average
Does not change his/her program of study
Does not change his/her state of legal residence
Please complete and return the WUE application form to Admissions & New Student Services as soon as possible. If you have any questions about the WUE waiver, please contact admissions@helenacollege.edu or call (406) 447-6912.
Download WUE Application
Ready for the next step on your way to becoming a Helena College student?