Helena College Class of 2024
Commencement Ceremony
Save the Dates
Fall Graduates - Saturday, December 16, 2023
Airport Campus - Friday, May 3, 2024
Donaldson Campus - -Saturday, May 4, 2024
Steps to apply for Graduation:
Meet with your Advisor to provide a degree completion review and receive Advisor signature. (Students are encouraged to bring an unofficial transcript)
Complete the Application for Degree/Certification form. A separate application must be completed for each degree you plan to receive. Three ways to complete:

Print a hard copy form by following this link:  Graduation Application - PDF. Hard copy forms are located at the Registrar's Office or Airport Main Office.
Complete the application online following this link: https://forms.office.com/r/FMCcFbgRcV
Scan the QR Code: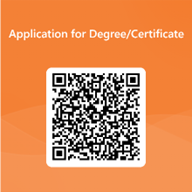 Degrees will be posted to your transcripts 3 to 4 weeks after final grades are posted.
Please review your transcripts on MyHC.
Diplomas will be mailed to the address listed on your graduation application 2 to 3 months after graduation.
Spring Graduates – August
Summer Graduates – October
Fall Graduates – March