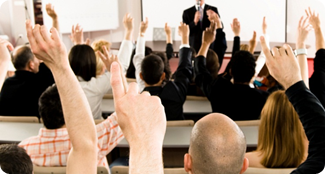 Helena College recognizes the importance of professional development and encourages faculty and staff to grow in discipline and knowledge through a variety of opportunities. Funds to attend professional development opportunities, such as training, conferences, or workshops are available through the institutional Professional Development Committee.
For Faculty, professional development hours are a recognized part of evaluation, promotion and tenure. Faculty who are interested in participating in professional development activities should work with their Department Chair and Academic Dean to develop their Professional Development Plan.
Helena College Training
Human Resources provides the following training courses as part of our commitment to helping all faculty and staff succeed. To inquire about dates or to register for a scheduled class, click here.
Management Training
How to Write a Role Description
Communication
Leadership
Civil Rights - Diversity
Helena College attempts to provide accommodations for any known disability that may interfere with a person's ability to participate in any service, program or activity of the College. To request accommodation, please contact Human Resources at 406-447-6925