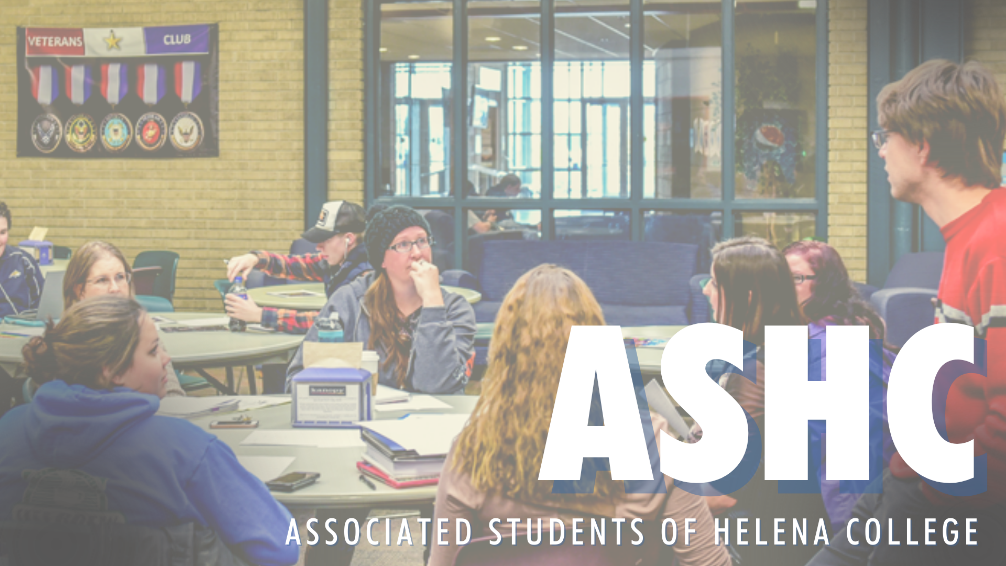 Who We Are
The Associated Students of Helena College (ASHC) is the official governing body for Helena College students. The purpose of ASHC is to advocate for the general welfare of Helena College students, serve as a forum for student participation in clubs and organizations, conduct business on behalf of the study body, and represent the student opinion at the college's internal and external affairs. We are your official student government!
What We Do
ASHC promotes campus engagement through events, campus activities, student clubs, and civic engagement. Funds collected by the Helena College Student Government fee are controlled by ASHC Student Senate. Together we decide how funds are allocated to accomplish the ASHC mission to enhance the student experience. Funds are often used for:
Student events and activities
Funding new student clubs
Student Scholarships
Equipment in common areas i.e. water bottle refill stations
Special projects requested by students
ASHC Executives and Senators maintain regular committees and meetings to accomplish the business of Helena College students. Senate committees include budget committee, student life committee, elections committee, and many more!

Through our connection with the Montana Associated Students (MAS), ASHC representatives stay up-to-date with state legislation that impacts Helena College students. ASHC participate in important MUS Board of Regents (BOR) meetings and communicate items of interested from the Office of the Commissioner of Higher Education (OCHE).

If you are interested in participating in the ASHC, please contact the ASHC President or consider applying for an Executive or Senator Position.

Join ASHC
Joining ASHC allows your voice to be heard! Participating in student government provides excellent networking opportunities, shines on your resume, and gets you connected to peers and events on campus. ASHC members make a difference on campus and have great influence on initiatives that improve the student experience at Helena College.
Executive Officers receive a stipend for their contributions to the ASHC each year. The President and Vice President are Elected positions each receiving $3,000.00 per year. Business Manager and Secretary are appointed positions each receiving $1,500.00 per year. Executive Officers can expect to serve 5-12 hours per week.
Senator positions are unpaid. The Senate is comprised of club representatives and up to 10 senators at large. Senators can expect to serve 3-6 hours per month.
Officers
President: Nick Worsley
Vice President: Cyrus Cannon
Business Manager: Thai Nguyen
Secretary: Aubrey McMaster
Office Locations & Contact
2022-2023 Student Senate Meeting Schedule coming soon