Program Description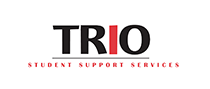 The TRiO Student Support Services program serves 140 Helena College students at any given time. It is grant funded and services oriented to assist students who are from traditionally underrepresented populations, and who may be considered at-risk, or potentially at risk, in regard to completing a college education. TRiO SSS offers a partnership to its participants in overcoming academic, career, financial, and personal challenges that could hinder college completion.
Eligibility Criteria
Please note: Students must meet all 4 of the criteria below:
Be a citizen or national of the United States, or meeting the residency requirements for Federal student financial assistance.
Be a degree-seeking student enrolled in a minimum of 6 credit hours per regular semester and having the objective of completing 18-24 credit hours per year.
Demonstrate a need for academic support, as determined by this program through an application process, in order to successfully pursue a post-secondary educational program.
Be at least one of the following:


First generation college student status (neither parent has completed a 4-year degree);
Income qualified (as described by the U.S. Department of Education guidelines); or
An individual with a documented disability (physical, mental, or learning).
Program Services
Academic Advising and Planning:

Participants will receive one-to-one advising from a TRiO SSS staff and/or faculty each semester. Educational information and assessments will be utilized to identify academic needs. There will be collaboration with Helena College faculty and staff to provide an "Early Alert Referral" notification to TRiO SSS if a participant is having difficulty in order that the program can assist as an active partner.

Personal Guidance and Counseling:

Guidance relating to college transition, campus/community resources, social and cultural enriching activities, and general personal concerns is provided by all TRiO SSS. Limited professional counseling is available with a licensed counselor.

Financial Guidance:

Each participant receives guidance in financial preparation, aid in applications and scholarship/grant letters, etc.

Tutoring:

Tutoring is available to assist participants with subject difficulties.

Computer Access:

There is additional computer access available for use by participants in the program area. TRiO SSS computers can be utilized for class research projects, typing papers, etc. Additional assistance can be made available at the participant's request.

TRiO Student Support Services
Helena College
1115 North Roberts Street
Helena, MT 59601-3098
406-447-6956