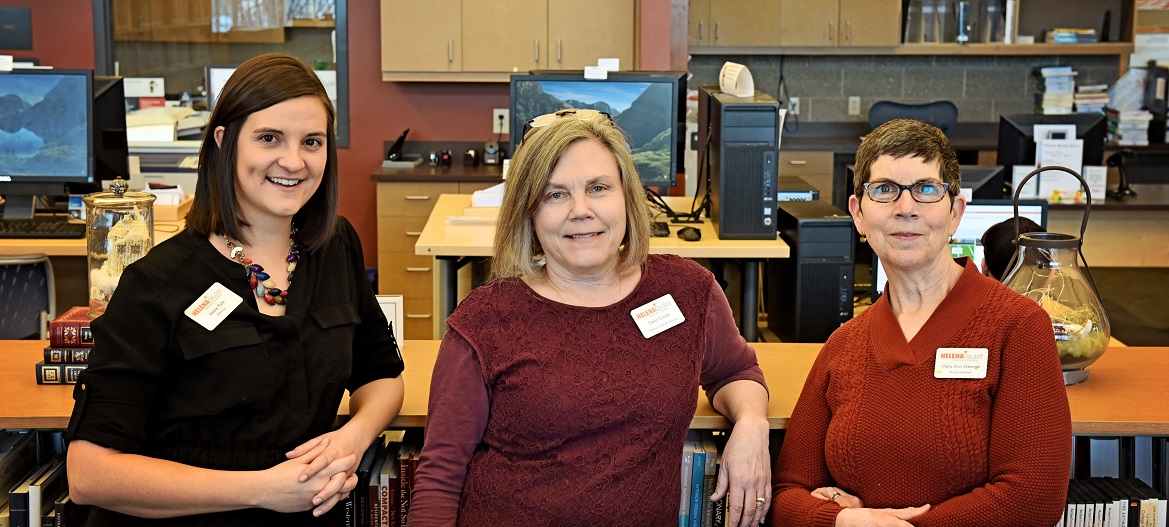 Jessie Pate, Librarian | Della Dubbe, Director of Library Services | Mary Ann George, Library Technician
Contact Information
Helena College Library
1115 N. Roberts
Helena, MT 59601
Phone: 406-447-6943
Fax: 406-447-6397
Email:
library@helenacollege.edu
Open Hours
Donaldson Campus Library
Fall and Spring semesters: Monday through Thursday 8:00am to 6:00pm and Friday 8:00am to 5:00pm.
Summer semester and winter and spring breaks: Monday through Friday 8:00am to 5:00pm.
Airport Campus Library
The Airport Campus Library is open all hours the Airport Campus facility is open.
Ask a Librarian
for help.
*Both libraries are closed weekends and federal holidays.
Library Mission
The mission of the Helena College Library is to enable student success in the programs and degrees offered at the college.
Professional librarians will achieve this mission by collaborating with faculty, and the library community, in the selection, purchase, and creation of information resources and services; and by providing information literacy instruction targeted to the curriculum. In addition, the library exists as a quiet place of study and inquiry, fostering the concepts of lifelong learning, intellectual freedom, and cultural enrichment.
Library Council Summaries
Fall 2012
Spring 2013
Fall 2013
Spring 2014
Fall 2014
Spring 2015
Fall 2015
Spring 2016
Fall 2016
Spring 2017
Fall 2017
Spring 2018
Library Advisory Council
General Education Division Chair
Trades Division Chair
Faculty Member
Public Library Representative
Academic Library Representative
Student Representative
Director of Continuing Education
Director of Nursing
See Collection Management Plan
Assessment Reports
Annual Reports
Semester Reports
Library Surveys