Helena College offers Montana State and Federal Work Study Programs. The Work Study Programs provide on- and off-campus employment opportunities to students in order to help meet their educational expenses. The Work Study Program is funded through part of a total financial aid award based upon financial need. Students must be eligible in order to qualify for employment.
Students who participate in the Work Study Program are paid biweekly. Students earn their Work Study award on an hourly basis, the same way they would at a regular job.
Job Search & Responsibilities
The Work Study Program provides students flexibility and responsibility. The Scholarship & Work Study Officer does not provide job placement for students; thus, jobs are not guaranteed for any student who is eligible for a Work Study award.
Helena College operates its Work Study Program in a "free market" environment, which means that the College does not assign you to a specific job. You are free to apply to any open position. The job search process allows for open communication between the student and supervisor and encourages students to contact only those departments and/or supervisors of jobs of interest. If a student has trouble finding a job or has not received responses from one or more supervisors after several attempts by email or phone, he/she should contact the Scholarship & Work Study Officer for assistance.
Although many employers post vacancies on the Work Study Positions webpage throughout the academic year, most job openings are posted at the start of the school year in July and August. Don't wait! Begin applying to positions early.
We recommend that you apply for several positions. The more positions you apply to the better your chances are of obtaining a job. Applying to just one position and waiting to hear back before applying to additional openings is not a good strategy.
If you do not hear back from an employer, follow up no more than a week or two later to reinforce your interest in the position and inquire about the status of your application.
To check your eligibility and obtain applications, please contact the Scholarship & Work Study Officer or the Financial Aid Office.
For more information regarding the Work Study Program at Helena College, please review the Student Employment Handbook.
Positions for 2019-2020
America Reads/America Counts Tutor Program
Wage: $11-13/hour
Location: Area Elementary Schools
Hours: Up to 20 hours per week
Contact: Karina Moulton, Scholarship & Work Study Officer--447-6915
Duties: Literacy tutors may be employed in a pre-reading or reading program for individual students or groups of pre-school through elementary students, and also Financial Literacy Programs. Math tutors may be employed to serve children in kindergarten through ninth grade.
Cashier's Office Work Study
Department: Business Office
Wage: $10-12/hour
Date Posted: 11/1/19
Semester/Year: Spring 2020
Location: Donaldson Campus
Hours: up to 20 hours per week
Supervisor: Maia Zelenak, Accounting Manager—447-6918
Duties: Include but are not limited to: answering customer questions, providing information on procedures or policies; count money in cash drawers at the beginning of shifts to ensure the amounts are correct and that there is adequate change; issue receipts, refunds, credits, or change due to customers; maintain clean and orderly working areas; receive payment by cash, check, credit cards, vouchers, or automatic debits; direct customer complaints; calculate total payments received during a time period and reconcile this with total database transactions; perform general office duties including sorting mail, copying, faxing and filing; and handing confidential information. To be able to perform duties specified above, the cashier assistant must be computer literate, have a good knowledge of Microsoft Office, have an accounting/math background, and have exceptional communication skills. Attention to detail is required as well as reliability, punctuality and willingness to learn.   
Facilities & Maintenance Work Study
Department: Facilities & Maintenance Department
Wage: $10-12/hour
Date Posted: 1/15/2020
Semester/Year: Fall 2019/Spring 2020
Location: Donaldson Campus/Airport Campus on occasion
Hours: Flexible, up to 20 hours per week
Contact: Tommi Haikka, Interim Director of Facilities and Maintenance – 447-6936
Duties: Responsible for event venue set up of furniture and fixtures; greeting and interacting with college staff, faculty, and guests to satisfy their needs including last minute changes; clean venues before, during and after every event; perform general routine custodial work such as sweeping, mopping, vacuuming, emptying trash and recycling, cleaning windows, shoveling snow; cleaning, sanitizing and resupplying restrooms as well as special custodial work.  
Other requirements: Must possess good customer service skills. Maintain a HIGH level of ethical behavior. Able to work with a team and independently, as well as have time management skills.
IT Work Study
Department: IT
Wage: $11-13/hour
Date Posted: 1/15/2020
Semester/Year: Spring 2020
Location: Donaldson Campus/Airport Campus on occasion
Hours: 10 – 20 hours/week
Contact: Michael Crook, Computer Support Specialist III – 447-6949
Duties: This position will be able to gain experience and exposure to IT services by assisting the IT Department with helpdesk tickets and daily computer network related administration duties. Those duties may include but are not limited to providing tier 1 IT support, AV Room Set Up, PC troubleshooting and repair, software and operating system support, projector maintenance and printer maintenance.  This position will occasionally require, heavy lifting, crawling under desks and climbing ladders.
Qualifications: Must be enrolled in a Computer Technology Program.
Donaldson Parking Attendant
Department: Parking
Wage: $9-11/hour
Date Posted: 1/15/2020
Semester/Year: Spring 2020
Location: Donaldson Campus
Hours: 15 hours per week/ 3 hours a day
Position(s) Available: 1
Supervisor: Mary Twardos, Human Resource Generalist—447-6925
Duties: Will be responsible for monitoring and ticketing vehicles parked illegally on the Helena College Donaldson Campus. Assists Helena College parking staff with various projects as needed and will involve work with Excel spreadsheets & Access database. 3 split shift hours between morning & afternoon, 8am-5pm preferred. Typically, 8 or 9am, 12 or 1pm, 3 or 4pm.
Temporary Office Help
Department: Trades Division
Wage: $10-12/hour
Date Posted: 1/15/2020
Semester/Year: Spring 2020 (March 27-April 16)
Location: Airport Campus
Hours: up to 20 hours per week; Monday-Friday 4 hours per day
Position(s) Available: 1
Supervisor: Bridget Guerin, Airport Campus Administrative Assistant—447-6350
Duties: Greet guests from the community. Answer questions from students. Assist instructors with any needs. Assist Trades Division Chair with office duties. Make copies and keep the copy machine running. Answer the phone professionally. Follow through with email requests from the Donaldson Campus. Transfer mail to instructor mailboxes from USPS and Donaldson Campus. Direct deliveries to Bookstore/Parts Department. Give basic tours to community guests off the street. Library duties. Newspaper transfer. Other duties as requested.
New Tiered Payscale for Work Study
The three tiers have been determined by
The range and complexity of job duties,
The knowledge and skills requirements necessary to perform the job, and
Equity (wage relationships with other student employees doing similar work).

Student Earning Ceiling
The chart below reflects the estimated number of hours a student may work per week to fully utilize his/her employment eligibility during the academic year. These figures are based on a possible 30 weeks of work for the academic year (excluding breaks).
Student Employment Week
Student Employment Week is April 13-17, 2020.
Why We Celebrate
Helena College employs a wide variety of student workers who perform invaluable services with passion, commitment, and initiative. All while developing important skills and experience they will carry with them into their future careers upon graduation. Our student employees contribute so much to the campus community and providing access and support to our students' success.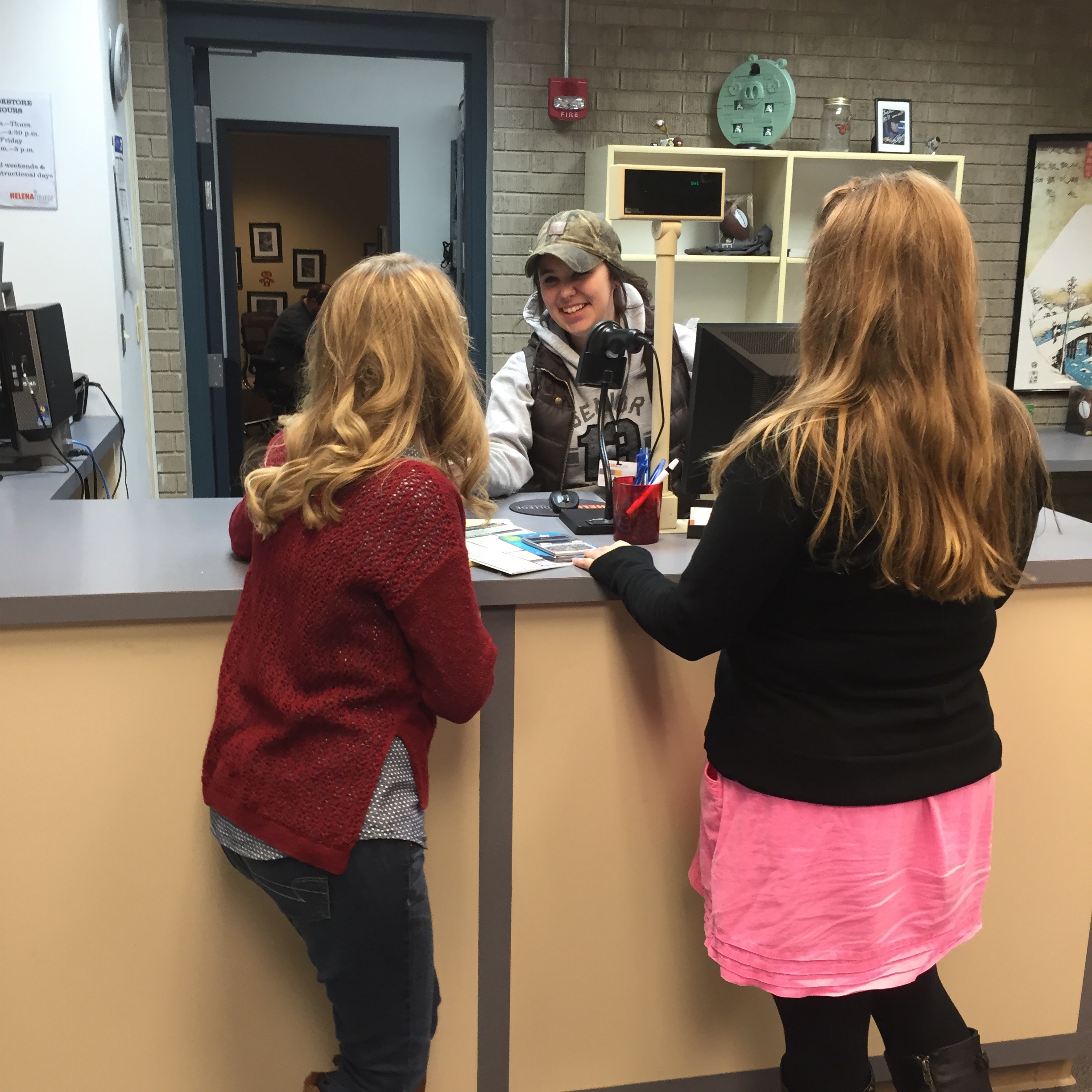 In addition, through the Federal Work Study Program, several local nonprofit agencies hire Helena College students to work in community service positions for their organizations.
We encourage all departments to recognize them for their hard work not only during Student Employment Week, but throughout the year to let them know that their efforts are valued.
Student Employee of the Year Nominations
Supervisors nominate their student workers for Student Employee of the Year.
Nominate your employee!
Purpose
The Helena College Student Employee of the Year Award was established to recognize and help promote the outstanding contributions and achievements of Helena College students who effectively combine campus work with their academic commitments. We look to supervisors within the college to nominate student employees who they feel are especially worthy of recognition based on their performance.
Nominee Criteria
Nomination forms should be completed and submitted to the Scholarship & Work Study Coordinator. To be considered, nominations must be complete and submitted NO LATER THAN 5:00 pm, February 10th of each year. Additional letters of nomination may be submitted by following the instructions at the bottom of the nomination form.
To be eligible for consideration, the nominee must be:
Currently enrolled in at least 6 credits as a Helena College student;
Working at least 10 hours a week on- or off-campus as a Work Study student;
Employed with the same department/office for at least 6 months during the selection period which is the academic year July 1st to June 30th; and
Must be maintaining good academic standing.
Nominees are not restricted to students employed through the Federal/State Work Study Programs. All student employees are eligible for consideration.
Please keep the following guidelines in mind:
Must be nominated by a Helena College employee.
You may attach an additional support documents that are each no more than 2 pages in length.
A committee comprised of the Work Study Committee and a representative of Helena College Student Government Association will select the Student Employee of the Year. The student employee selected will be announced during the Student Employment Week.
Tips for nominating your student employee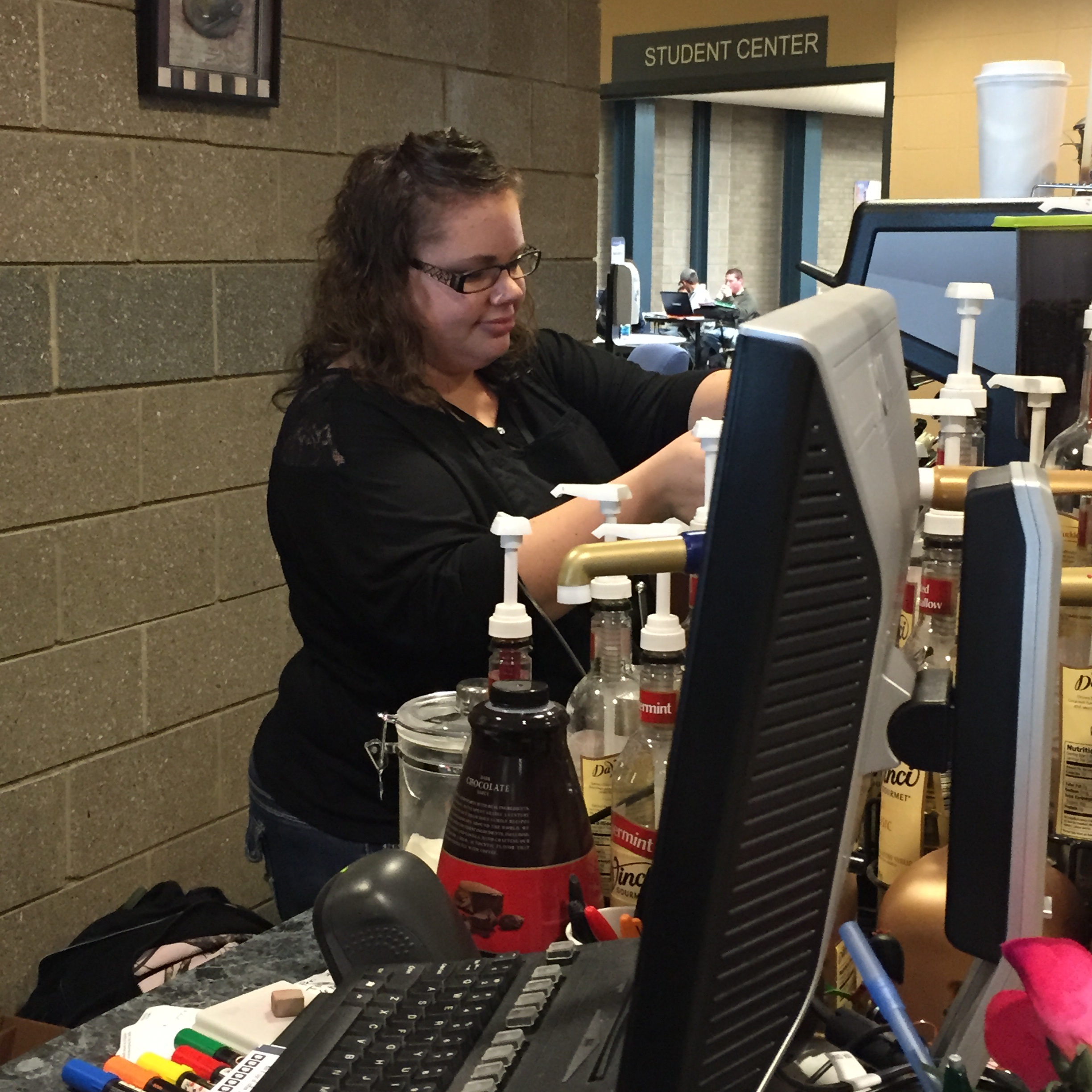 It is best to gather all letters of support and additional documentation before completing the nomination form. Please note that you may only attach two additional support documents that are each no more than 2 pages in length. These may also be emailed to the Work Study Coordinator.
Nominations will be reviewed for minimum eligibility requirements. Only students meeting the minimum eligibility requirements will be reviewed further. The Student Employee of the Year should be maintaining academic performance while working.
Reviewers will be reading for specific examples of how this student demonstrates the following: Team work/Collaboration, Commitment, Excellence in Attitude, Initiative & Creativity, and Problem Solving. Avoid only using general statements.
The nominators of the students selected as Student Employees of the Year will be notified in advance to the awards ceremony to ensure they will attend.
Should you require additional information, please call (406)-447-6915.
Past Student Employee of the Year Awards
2018-2019 Student Employee of the Year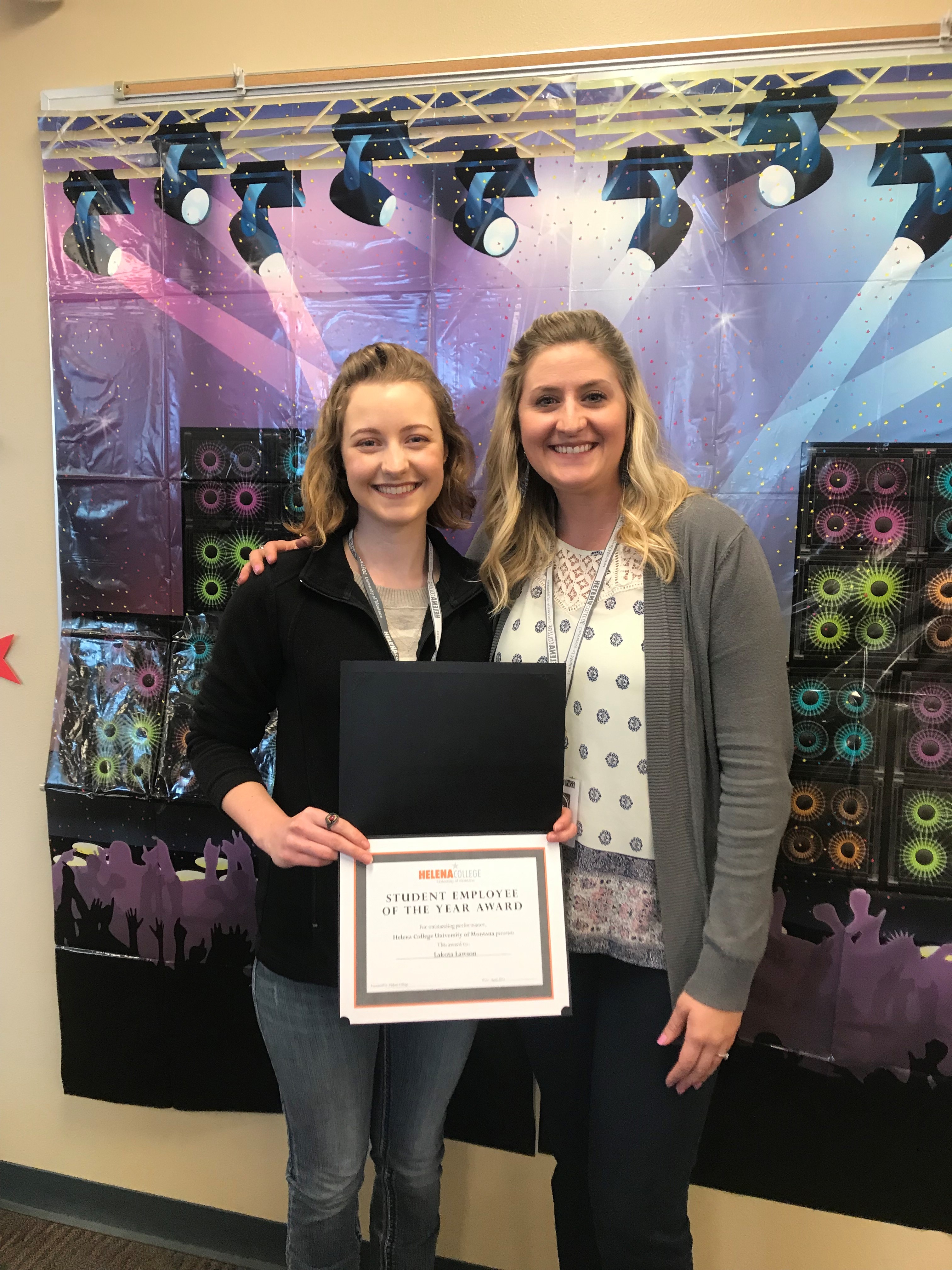 Lakota Lawson- Admissions & Records
2017-2018 Student Employee of the Year

Stanley Munson- Financial Aid Office
2015-2016 Student Employee of the Year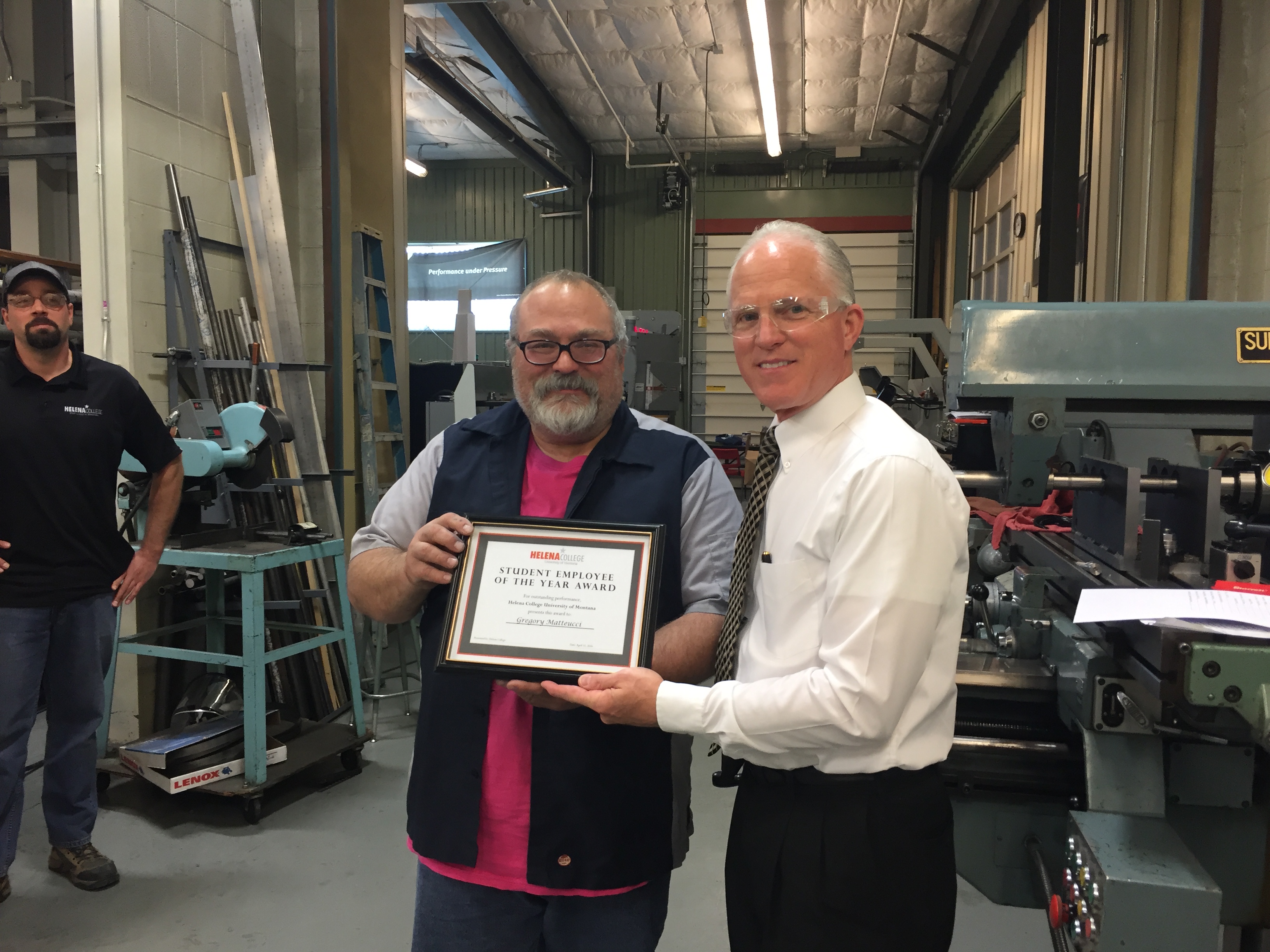 Gregory Matteucci- Machine Shop
2014-2015 Student Employee of the Year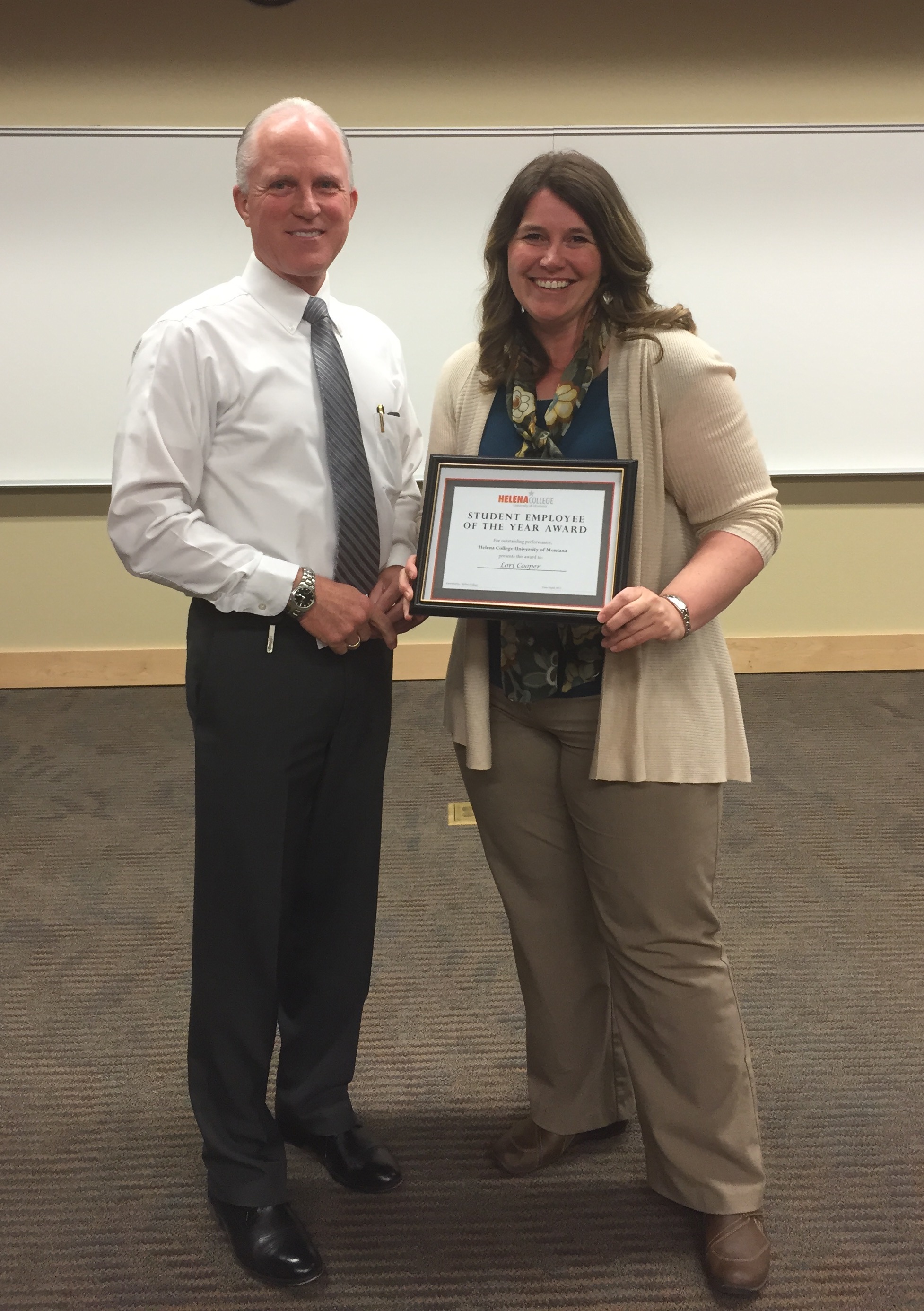 Lori Cooper- Student Support Center
Notice to all Helena College Work Study Students:
All payroll information/changes may be made at Cyberbear.
Instructions: Login to Cyberbear using the above link. Below the sign in boxes under the Need Help With Your Account? heading click What's My NetID? Enter the requested information to retrieve your NetID and then click the Forgot Password link to obtain password to login.    
To obtain calendars of time periods and time sheets go to HR Forms page under Payroll.
Please contact the Helena College Financial Aid Department at 406-447-6916 with any questions.
Helena College provides equal employment opportunities to applicants and employees without regard to race, color, national origin, age, physical or mental disability, marital status, religion, creed, sex, sexual orientation, or political beliefs.