Fire and Rescue
This program is offered in Helena and Missoula.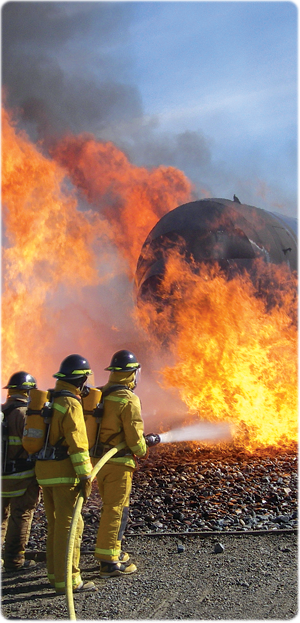 The Helena College Fire and Rescue program is accredited the International Fire Service Accreditation Congress (IFSAC). 
IFSAC is a peer-driven, self-governing system of both fire service certification programs and higher education fire-related degree programs. The IFSAC Certificate Assembly provides accreditation to entities that certify the competency of and issue certificates to individuals who pass examinations based on National Fire Protection Association (NFPA) fire service professional qualifications and other standards approved by the Assembly. The IFSAC Degree Assembly accredits fire science or related academic programs at colleges and universities.
What type of job can I get?
Firefighter
Program Reviews
Assessment

Program Assessment Academic Year 2017
Program Outcomes Academic Year 2017
Job outlook & wages
Median Wage in MT*:  $43,460
Median Wage in US*:  $45,250
Expected Growth in MT*: 13.9%
Expected Growth in US*:  18.5%
*Bureau of Labor Statistics, Office of Employment Projections; MT Dept. of Labor and Industry, Research and Analysis Bureau
  Connect with us on Facebook!     

Degrees
Associate of Applied Science – Fire and Rescue
What you'll learn
All coursework required in the Fire and Rescue program is offered in Helena and Missoula.  Fire and Rescue courses concentrate on training in fire behavior, extinguishing agents, apparatus, tactics, rescue, and safety.  Students will experience live fire situations in training mock-ups, which will prepare them to enter various careers.  Official acceptance into the Fire and Rescue program is contingent upon the student successfully completing two physical requirements.  The first requirement is passing a physical exam performed by the student's family physician or medical practitioner.  The physical agility test is the second physical requirement.  Students must successfully complete the physical test within a one and one-half hours' time frame, before being allowed to register for Fire and Rescue classes.  The required physical agility test will be offered at fall orientation programs.
Upon successful completion of this program, a student will be able to:

Demonstrate professional conduct by displaying a positive work ethic, flexibility, team work, physical fitness, safety consciousness, and sensitivity to diversity.
Demonstrate basic fire fighter skills in the areas of structural firefighting, wildland firefighting, aircraft rescue and firefighting, hazardous materials emergency response, and in basic emergency medical care.
Be able to explain strategies and tactics in all types of incidents requiring fire service response, risk management, incident management, loss control, search & rescue, hydraulics, code enforcement, protection systems, and incident prevention.
Function within the national incident management system (Incident Command System). Show basic supervisory skills, peer instruction and all types of communication methods
Program cost
$8,624
Potential employers
Community-based fire departments, Industrial fire brigades, Airport fire brigades, and Wildland fire agencies
Instructors
Mike Wiederhold