All coursework required in the Fire and Rescue program is offered in Helena and Missoula. Fire and Rescue courses concentrate on training in fire behavior, extinguishing agents, apparatus, tactics, rescue, and safety. Students will experience live fire situations in training mock-ups, which will prepare them to enter various careers. Official acceptance into the Fire and Rescue program is contingent upon the student successfully completing two physical requirements. The first requirement is passing a physical exam performed by the student's family physician or medical practitioner. The physical agility test is the second physical requirement. Students must successfully complete the physical test within a one and one-half hours' time frame, before being allowed to register for Fire and Rescue classes. The required physical agility test will be offered at fall orientation programs.
Upon successful completion of this program, a student will be able to:
Demonstrate professional conduct by displaying a positive work ethic, flexibility, team work, physical fitness, safety consciousness, and sensitivity to diversity.
Demonstrate basic fire fighter skills in the areas of structural firefighting, wildland firefighting, aircraft rescue and firefighting, hazardous materials emergency response, and in basic emergency medical care.
Be able to explain strategies and tactics in all types of incidents requiring fire service response, risk management, incident management, loss control, search & rescue, hydraulics, code enforcement, protection systems, and incident prevention.
Function within the national incident management system (Incident Command System). Show basic supervisory skills, peer instruction and all types of communication methods.
Successful students receive Firefighter I & II Certification as well as EMT Certification.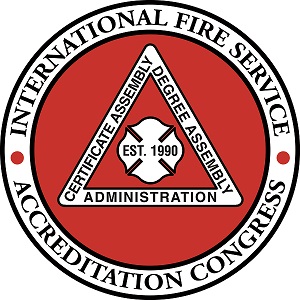 The Fire & Rescue program at Helena College has received international accreditation from the International Fire Service Accreditation Congress (IFSAC). An IFSAC accredited program indicates that course offerings, institutional support, and qualified faculty are working together in completing their educational mission. The IFSAC Degree Assembly is recognized by the Council on Higher Education Accreditation (CHEA) as a programmatic accreditor of fire and emergency related degree programs. Accreditation is granted only after an integral self-study is conducted by the entity or institution seeking accreditation, followed by an on-site review by a panel consisting of peer representatives from other member entities or institutions.
Students receiving a fire science degree from an internationally accredited program meet the criteria necessary to be eligible to apply for position openings across state and international borders. This gives students who graduate ans IFSAC accredited program the ability to be competitive for industry positions that are not limited to the state of Montana.
Program Assessment - AY2018
Program Outcomes - AY2018
Wage Estimates, Retention, Completion, and Graduation
For information on the Fire & Rescue program in Helena and Missoula, contact Kylie Parker at 447-6904 or via email.
Park County Residency Program and Scholarship Opportunity
Park County Rural Fire District #1, located in Livingston, Montana, has partnered with Helena College to offer students the opportunity to earn an Associate of Applied Science Degree in Fire and Rescue while living at a working firehouse.  Four full scholarships and a partial scholarship are offered for five live-in positions.  Courses are delivered in Park County and occasional lab experiences are conducted at Helena College in Helena, Montana.
Eligibility requirements:
Apply to Helena College and be accepted into the Fire and Rescue program. See Academic Calendar for dates and deadlines. 
Once accepted to the College, applicant must apply for the residency program with Park County Rural Fire District #1 in Livingston, Montana.
Benefits of the Residency Program include:
Free room and board
Potential for full or partial scholarship
Additional training opportunities by fire professionals
Experience and skill refinement responding to emergency incidents
For further information on the Park County residency program and scholarship opportunities contact: Dann Babcox, Fire Chief or call 406-222-0562
Apply today! Residency program for fall 2018 begins May 20, 2018.
Fire and Rescue A.A.S
Second Semester Courses

| Course # | Title |
| --- | --- |
| FIRE106 | Wildland Fire Fighting |
| FIRE108 | Personal Physical Fitness II |
| FIRE110 | Hazardous Materials |
| FIRE120 | Emergency Services Customer Service |
| FIRE121 | Incident Command |
| FIRE125 | Emergency Equipment Maintenance |
| FIRE130 | Fire Apparatus Operation |
| FIRE140 | Fire Fighting Tactics and Strategies |
Fourth Semester Courses

| Course # | Title |
| --- | --- |
| FIRE210 | Aircraft Rescue and Fire Fighting Basic Training |
| FIRE215 | Fire Streams |
| FIRE225 | Fire Officer |
| FIRE250 | Fire Ground Operations |
| FIRE270 | Fire Prevention |
| FIRE288 | Capstone (FIRE289 may be substituted for FIRE288. Must meet acceptance requirements.) |
| FIRE289 | Fire Service Internship (FIRE289 may be substituted for FIRE288. Must meet acceptance requirements.) |
| COMX106 | Communicating in a Dynamic Workplace |