Becoming a Helena College Community Education Instructor
If you have an area of expertise to share with others, Helena College's Community Education and Customized Training may be the place for you.
Do you have a desire to teach?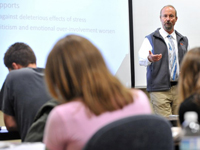 The Community Education Department at Helena College has a mission to serve the educational needs of the entire community. We devote ourselves to programming excellence, innovation and creativity. Helena College CE is always looking for educational professionals who enjoy sharing their knowledge and creating memorable educational experiences. We believe that we have one of the finest group of instructors and course offerings to be found anywhere. If you are interested in being a part of this dynamic, fun-loving team, contact us!
Community Education instructors are employed on a part-time, as needed basis and are usually paid hourly for instruction. Most Community Education courses meet once or twice a week in the evening with the number of sessions varying depending on the class. Courses are usually weekday evenings or Saturday mornings. Instructors may not act as representatives of their place-of-business, and may not promote any products or services that they may sell, offer, design, or build. Handing out personal business cards to students while engaged in the act of teaching students, as a way of promoting oneself or business, is strictly forbidden.
What are our requirements?
All you need is a passion for subject, expertise or skill in that area, and a desire to share that knowledge with others. A sense of humor, as well as good communication and people skills are important. You must be flexible and have a desire to educate people of all ages, sexes and cultural backgrounds. If this sounds like you, please contact us! Proposals are encouraged but are not viewed as contracts or commitments by Continuing Education.
Who are our students?
Community Education is for everyone! Last year we served over 1000 students. We offer personal enrichment, professional development, online, non-credit and certificate classes and customized training for businesses. Students vary in age, interests, a large number of our students work full time, while many are retired. Our classes are formatted to be user friendly to the general public and most are offered in the evening after work and on some weekends. Courses last from one hour to up to 30+ hours and start and stop as needed.
How do we market our courses?
Newspaper Ads: We place upcoming classes in the local newspaper
Target Mailers: We produce brochures or flyers designed to inform specific markets of course offerings.
Print Catalog: We produce a full-color catalog twice a year. We direct-mail over 1200 copies and distribute them at events and public venues in our area.
Online: Classes are posted on this website.
Instructors help market their own classes: We will provide flyers or brochures for you to drop off at various locations and with your friends.
Word of Mouth: Our satisfied customers pass the word
How to get started?
We invite you to complete a Community Education Course Proposal Form and return it along with a current resume to the Community Education Department by e-mail to: ce@helenacollege.edu; or by mail at: 1115 North Roberts St, Helena, MT 59601.
If you have questions, please e-mail or call (406)-447-6945